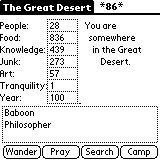 See Version Changes
Travel through the desert, keeping your tribe fed while making Art from junk, and increasing your Tranquility.
Keep track of 8 high scores.
A stand alone version of the online game, with unlimited turns.
Palm OS® 2.0
or better required.
"I bought your games Dunes Trader and Great Desert because they had originality in such simple games. I never thought such simple premises could be so addicting..."
-- Lisa DesGroseilliers from Southern Ontario, Canada
What other players say