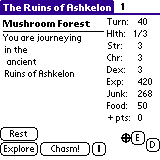 See Version Changes
Adventure in the ancient ruins of a vanished culture.
Overcome challenges like skeletal guardians and laser beam traps.
Gain powers and items like Steel skin and the electro-shield.
Keep track of 8 high scores.
A stand alone version of the online game, with unlimited turns.
Palm OS® 2.0
or better required.
"...I will be buying the Ruins of Ashkelon shortly (next paycheck) cause even in the demo form, it's addictive... I like the built in choices, odd mystical encounters, and the point system. Excellent game, and as I said, that's only the demo."
-- Susan Policoff from Berkeley, California