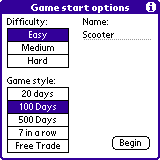 See Version Changes
Trade cargo among cities in a semi-futuristic desert world.
Carry exotic cargo such as spider webs and robots.
Play several types of challenging games.
Tracks high scores for all different levels of play.
Different difficulty levels.
Palm OS® 2.0
or better required.
"Dunes Trader is the 3rd trading game I have on my palm and a very entertaining one indeed, at least more so than my other two old favourites, Dopewars and Taipan. The interface is clean and intuitive with endless possibilities... Overall the game is worth every penny and I heartily recommend it to any palm 'trader' out there :-)"
-- Edwin Kwan from Ontario, Canada
What other players say