ADVENTURE SOLITAIRE
(v2.7)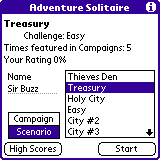 Online Manual
See Version Changes
Complete puzzles that blend fantasy adventure and solitaire.
24 campaigns and 54 individual scenarios.
Or have the game create random scenarios for you.
Encounter 54 different items and monsters, including: Dragons, wizards, locked treasure chests, shadow mages, thieves, magic scrolls, caves...
High scores and ratings.
Random scenarios create many hours of play.
Choose a difficulty level.
Palm OS® 3.5
or better required.
"You had this game (Adventure Solitaire) sold to me before I even finished the 'Introduction' Campaign! The game is superb! I can only imagine how much this game is going to addict me once the 'high score' options become available to me [when I get the full version of the game]..."
-- Scott Shipley, 19, from Kansas
What other players say